Find and manage your global agent's network using Parnity,
FOR FREE!
Parnity is a platform that focuses on independent freight forwarders partnering.
Our Main goal is to solve all the trouble you
have managing your forwarder partners.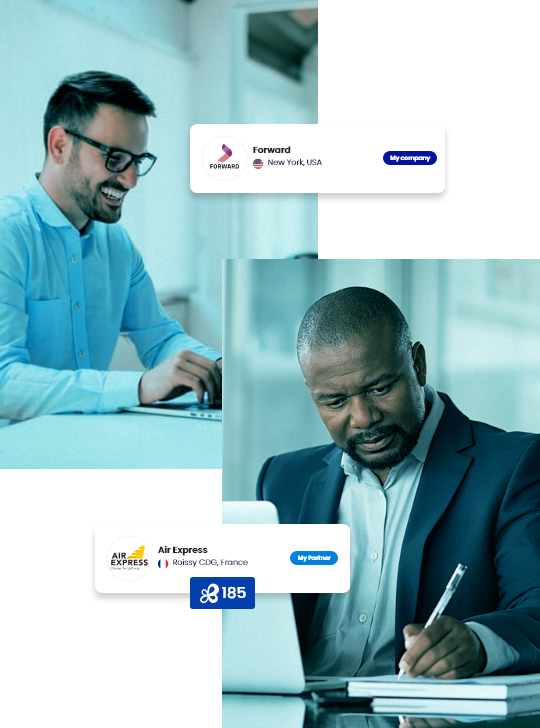 ¹This is the Trust Score.
The number next to it, means the number of other forwarders that consider this company as a partner.
1
Find new forwarders
Find real freight forwarders worldwide, and choose the most suitable one for the cargo you need to transport!
More than 10 thousand freight forwarding companies contacts.
Only real companies, validated by our exclusive artificial Intelligence.
Find the most connected companies by the Trust Score¹
2
Parnity is always going to be
free to join

.
Tools that we have today and will always be free:
We
Have Big Plans
Therefore we'll keep improving Parnity with new solutions to solve all partnering touchpoints between forwarders and we'll charge for some of the new tools - but you will be able to choose if you want the paid tools, or to keep the FREE ones.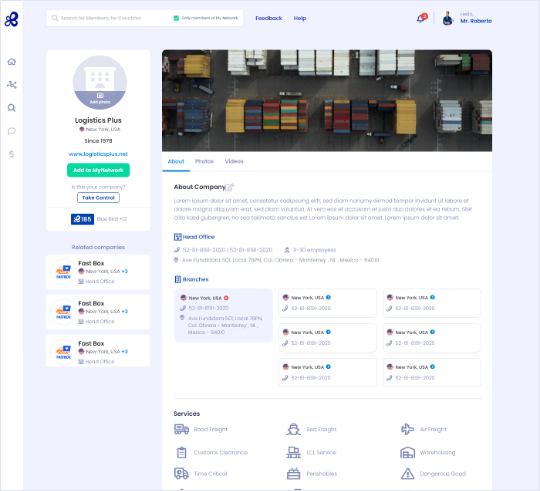 3
Be found
by other forwarders
Complete your profile to show the other companies searching for forwarders in your country, that you are the best option!
Your company
presentation
Results search for: Brazil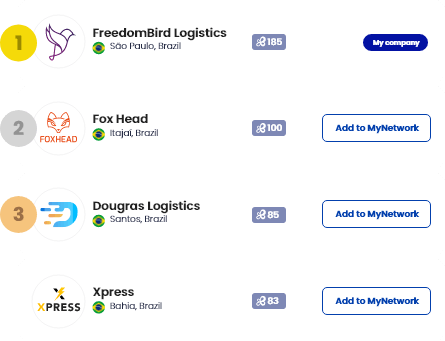 Be an active member, and our algorithm will put you on the top of the search when someone searches for your country
Be added in the ranking list of your forwarder partners, and improve your Trust Score(*)
4
MyNetwork
Only visible to your team
Organize your forwarder partners on a tool only visible to your company, and let your team quote only the forwarders you wish them to consider. Manage your partnerships and remember everything you've been through with that partner.
Your data is safe with us!
All the data you add into MyNetwork, is encrypted and only visible to your company. This information will never be public.
Upload your current partner's list or find new partners through Parnity
Manage your partners from all over the world (old and new ones)
Prioritize the best partners by country
Organize in each country by the priority it makes more sense to your company (Modal, type of cargo, etc)
Have a complete history of each partnership
Share with your team an updated version of your company's network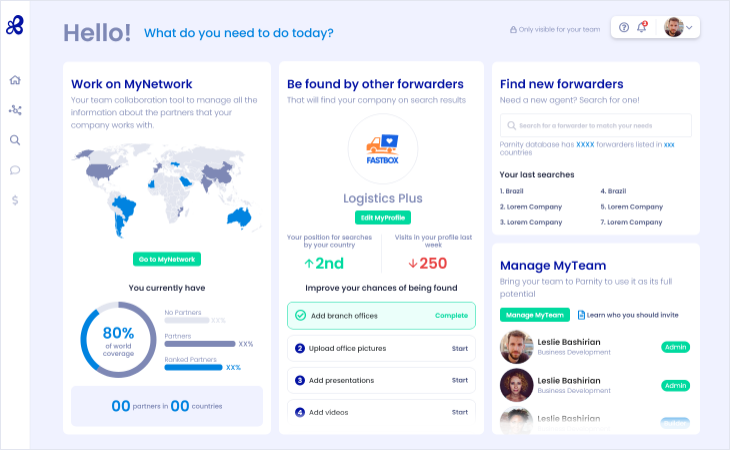 5
Dashboard
Your real Global Coverage, in a way you never saw before!
Find real freight forwarders worldwide, and choose the most suitable one for the cargo you need to transport!
Have your
partners maped.
Know where you have to search for new partners and be prepared to all quotations.
Centralize all your data
in one place.
Parnity is changing the way forwarders manage their forwarder partners around the world.
We're not
a logistics network
a freight forwarders directory
going to charge a membership fee to join Parnity, EVER
We are a Platform to manage your forwarders partnerships.