myPartners
Stop losing money and customers by misquoting agents
MyPartner is designed for Forwarders who want to ensure that their pricing team has the correct agent information to quote with maximum speed and assertiveness.
Schedule a Meeting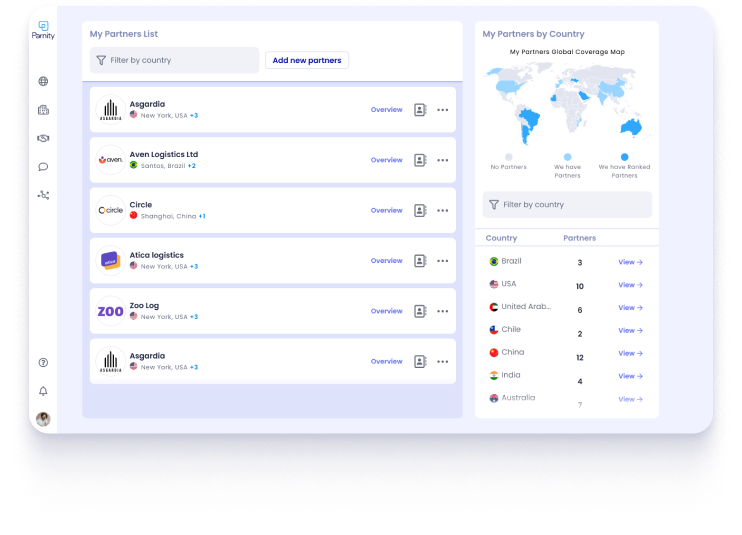 Companies using MyPartners
After all, who is MyPartners for?
For forwarders who value the planning, management and analysis of partnerships among forwarders

Check out how MyPartners
helped EVL to improve
their partnerships with
other forwarders
Oedeu Busnello
EVL TRANSPORTES E LOGISTICA
We were surprised with the features. In MyPartners, we rank agents by performance, so whenever they have a new quotation, they know exactly the best partner for that shipment that they should quote. It saves a lot of time.
Niina
Wiima Logistics Oy
For our team, it helps a lot with finding all the information in one place. Before MyPartners our information was here and there, so it's been a huge help for us. Also, MyPartners made it easier to update information about our partners.
No Network
restriction
MyPartners is not tied to Parnity Network membership. This means you can add any agent to your MyPartners account, no matter where you made the connection from.
Country and priority visualization
Categorize your partners by region, cargo, modal, etc., and rank them gold to silver for prioritization during quotations.
Detailed information about each agent
A detailed view for each agent to keep track of information, contacts, files, and comments about the work between the two companies.
Collaboration is the key
Bring your entire team that deals with agents into MyPartners. Make sure everyone has the information they need, when they need it.
Private and Secure
The system is encrypted, only account users have access to the data inside, and only specific roles can edit information about the mapped partners.
See all your partners in a world map
Your global partner coverage in a visual, real-time world map. See in seconds where you need to develop new partnerships.
Learn more about partnership management